Cataract Surgery in West Palm Beach, FL & the surrounding areas
Cataract Surgery is performed in our beautiful state-of-the-art onsite surgical facility. Having our own surgery center allows us to personally select our nurses, technicians and assistants. Our center was designed to create a warm and loving environment and to eliminate the fear of eye surgery. It is important to us that at every point of contact, our patients feel safe and secure, knowing they are in competent and loving hands. Aker Kasten's surgical facility is located on the second floor of the eye center with two fully equipped operating suites and a third suite devoted exclusively to our femtosecond laser.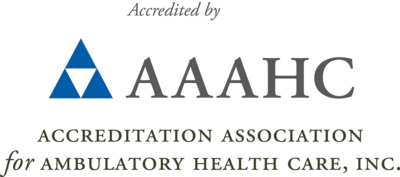 Accreditation with AAAHC (Accreditation Association for Ambulatory Health Care) is an important milestone in the continuing growth and success of our health care organization. Achieving accreditation demonstrates our commitment to providing the highest levels of quality care to our patients, and the same high level of quality in our business practices.
Making a Well-Informed Decision
A very unique aspect of our practice which has proven to be a wonderful resource to our cataract surgery patients, is the role of Medical Science Liaison, Dr. Jeffrey Rapp. Dr. Rapp will help to take the confusion out of the many options for you in achieving your vision goals.
Once you schedule your cataract evaluation with us, you will meet Dr. Rapp through a personal phone call prior to your first visit at our eye center. As patient advocate and surgical advisor, Dr. Rapp will welcome you to our practice and guide you through important information and possible options open to you as you consider cataract surgery. On this call you will be able to ask all your questions and discuss the things most important to you regarding your vision. This preliminary discussion, in a relaxed setting, will give you time to process the information needed to make well-informed choices.
Typically, Dr. Rapp will greet you on your first visit and assist in your consultation with the surgeon. We want to provide you with a customized surgical experience that ensures you achieve the best possible vision following cataract surgery.
Our goal is to provide you with all the information and education you need
to make your cataract surgery a rewarding experience from start to finish!
What Should I Expect at My Cataract Surgery Consultation?
Once a cataract has been identified, an appointment will be made for your pre-surgical diagnostic testing. This will include lens implant calculations and testing necessary to determine which lenses will be compatible for you. A consultation will then be scheduled with your surgeon who will discuss various implantable lens options with you. A date will be set for your surgery and instructions will be given to you at that time.
How Do I Know What Lens is Right for Me?
We live in an exciting age of technology with many choices that were not available to us years ago. Today's cataract surgery patient now has the option of choosing between a standard lens or one of several premium lens packages.
At the Aker Kasten Eye Center we will provide you with the most advanced choices in intraocular lens (IOL) technology. With your best interest in mind, your doctor will guide you through the decision making process and help you determine which lens would best fit your lifestyle.
Implantable lenses fall into two main categories: Standard and Premium.
Standard Lenses
Standard IOLs have been around for decades. For patients without astigmatism, these lenses are designed to provide good distance vision. Patients choosing a standard lens will typically need to wear glasses for reading, and if there is any astigmatism present, will need glasses for intermediate and distance vision as well.
Advanced Premium Lenses
Premium IOLs are designed to minimize or eliminate the need for glasses by correcting astigmatism and providing a more natural range of vision for near (reading), intermediate (computer) and distances (driving). In addition to providing good distance vision, the Toric lens is used to eliminate astigmatism and the accommodating Crystalens and Multifocal implants help to produce near and intermediate vision.
Choosing a Lens Implant
Various factors such as lifestyle, daily activites and eye health are part of the decision making process when choosing a lens implant. Our surgical team will work closely with you to determine the path that will provide you with the best visual outcome. In the end, we always advocate for the safest, most effective choice for each patient.
What is Cataract Surgery Like?
In most cases, cataract surgery at the Aker Kasten Eye Center begins with the CATALYS Femtosecond Laser.
Laser Cataract Surgery is a revolutionary technology using 3D imaging to provide a highly customized and exquisitely precise treatment to assist with cataract removal. Just like a fingerprint, every eye is unique with its own shape and size. This laser provides a treatment specifically tailored to the unique structure of each eye. It performs parts of the surgery with incredible precision, helps to preserve and protect the delicate cells in the cornea and provides a perfectly centered opening for the lens implant.
Once the laser procedure is completed, phacoemulsification is used to remove the softened cataract. Following this, the chosen intraocular lens is gently implanted and the incisions are closed without sutures.
Our patients can typically anticipate a dramatic and rapid recovery of excellent vision following cataract surgery. Patients who choose surgery without the femtosecond laser may experience a more gradual recovery of vision. Also, patients that choose a standard lens implant will usually need reading glasses following the surgery.
What Our Patients Have to Say
"After researching many eye surgeons to remove my cataracts I decided to use Dr. Aker, and was glad I did. The standard of professionals from measurements to surgery cannot be beat. The very next day after surgery I couldn't believe the world of difference in my eyesight."

V. Walton
Schedule a Consultation
To learn more about Cataract Surgery or to schedule a consultation, contact us today at (561) 338-7722. Take our FREE Cataract self-test today to find out if cataract surgery is right for you! Our practice proudly serves Boca Raton, Florida, and the surrounding areas.