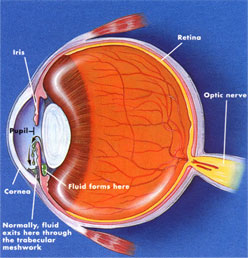 Selective Laser Trabeculoplasty (SLT) represents an advancement in laser technology that allows ophthalmologists to safely and effectively treat open-angle glaucoma.
SLT involves applying laser light to a specific part of the eye that is involved in removing fluid from the eye. Using a special wavelength and energy setting, the laser affects only pigmented (melanin containing) cells of your eye. SLT improves the flow of fluid from the eye, which in turn lowers your eye pressure.
How SLT is performed
SLT is performed in the physician's office and only takes a few minutes. Prior to the procedure, eye drops will be given to prepare the eye for treatment. The laser applications are made through a special microscope, similar to the one used for eye examinations.
What to be expected after SLT treatment
Your eye pressure may drop as quickly as a day or two after having SLT performed. The doctor may treat the eye with anti-inflammatory eye drops that will be continued after the procedure. You will be instructed to continue with your glaucoma drops and other medications until the doctor has advised you if any drops should be discontinued. The full effectiveness of the SLT is usually seen at about six weeks after the procedure is done.