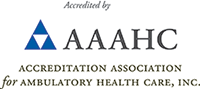 Our Operating Suite
Aker Kasten's ambulatory surgery center grew out of our desire to manage every aspect of our patients' care and to provide the latest technological advances in cataract surgery.
Our surgical facility consists of two fully equipped operating suites with a third suite devoted exclusively to our femtosecond laser. This laser and its revolutionary technology enables us to customize surgery for each patient, allowing for a greater degree of accuracy, precision and safety throughout the procedure.
Our accreditation with AAAHC (Accreditation Association for Ambulatory Health Care) is an important milestone in the continuing growth and success of our health care organization. Pursuing accreditation shows our commitment to providing the highest levels of quality care to our patients, and the same high level of quality in our business practices.
What is a cataract?
Cataracts & Astigmatism