Posted by: Aker Kasten Eye Center in Botox on October 15, 2018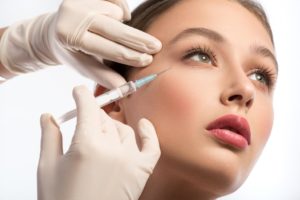 Botox is one of the most popular non surgical cosmetic procedures in the U.S. Not only can Botox reduce the appearance of wrinkles, but also relax and soften your look while making you appear younger. No wonder so many people love Botox treatments!
How Botox works
Botox injections will block the communication between nerves and muscles, thus effectively blocking the ability of a specific muscle to contract. Without the signal to contract, you can't have the wrinkles. Botox can help all kinds of wrinkles diminish. The most common treatment areas are: wrinkles around the eyes (crow's feet), frown lines, lip lines, and wrinkles around the neck and mouth.
Botox is a quick and efficient procedure. It takes only a few minutes, is an out patient treatment, and does not require anesthesia. Using a tiny needle, Botox is injected into the specific treatment area. Patients report feeling minimal discomfort, but it is temporary. Remember to desist from taking any anti-inflammatory medications or alcohol at least one week prior to your treatment. These measures will help diminish your chance of bruising.
Your Botox treatment should last around 4 months at minimum. With regular Botox injections, your muscles are trained to relax more consistently, thus resulting in fewer office visits.
Am I the right candidate?
If you want to get rid of annoying mouth lines, lip lines, or wrinkles on your face, you are likely a good candidate for Botox injections. Like with most cosmetic procedures or treatments, you should not get Botox if you are breastfeeding or pregnant. It is also helpful to be in general good health to help decrease the chance of possible (but rare) complications. Remember that Botox doesn't work for every single type of wrinkle. If you want to get rid of wrinkles caused by sun damage, it will not work.
Arrange a consultation
To find out more about Botox injections and if the treatment is right for you, contact Aker Kasten Eye Center today by calling (561) 338-7722. We look forward to helping you look your best!
---