Posted by: Aker Kasten Eye Center in Astigmatism on March 30, 2020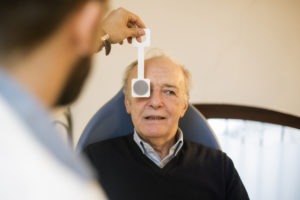 There are many conditions that can impact a patient's vision health. This may include age-related macular degeneration or AMD. AMD is one of the leading causes of severe vision loss for patients 60 years of age and older. This painless condition that damages the macula (the part of the eye responsible for clear, sharp vision) and provides deterioration that can result in sigh loss. Because of this condition, patients may experience difficulty doing everyday tasks that they once took for granted, including recognizing faces, driving a vehicle, and even reading.
How is AMD diagnosed?
AMD is diagnosed with the help of a doctor. Outside of changes in vision, most patients are unaware that this condition has developed. With early diagnosis and detection, patients can find out more about their condition and discuss treatment options with a medical professional. Screening tools used during routine eye examinations can detect AMD, as well as an Amsler grid that assesses the eye for distortions that develop. A diagnosis of AMD may include either dry AMD or wet AMD. Dry AMD is the most common form of age-related macular degeneration diagnosed in patients. It is less severe than wet AMD and progresses slower, though it can progress to wet AMD and cause the development of blind spots in one's vision.
Treatment options for AMD
Age-related macular degeneration is a condition in which there is no treatment option available. However, with early detection, many patients with AMD can take certain steps to slow the progression of the disease, including:
• Vitamin supplements
• Proper diet and nutrition
• Avoidance of smoking
• Adaptation to changing vision with an occupational therapist
• Surgery to place telescopic lens
Call the team of Aker Kasten Eye Center today
Boca Raton, FL area patients who are interested in getting a proper diagnosis of their condition, or are seeking effective treatment of age-related macular degeneration, are invited to request an appointment with the team at Aker Kasten Eye Center. Our doctors can assist with providing diagnosis and discuss treatment solutions that are right for the individual. We are located at 1445 NW Boca Raton Boulevard and can be reached by calling (561) 338-7722. We are always accepting new patients, and encourage individuals to take charge of their vision health with the assistance of our team of professionals.
---