Posted by: Aker Kasten Eye Center in Eye Health on September 15, 2019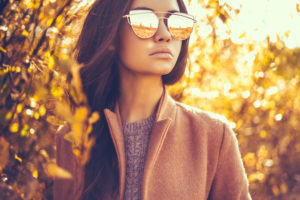 At Aker Kasten Eye Center, we work hard to educate patients on how to improve their eye health and care for their eyes. Most patients are aware of how important it is to protect their skin from the sun's UV rays. But what about the eyes? Eyes need to be protected from UV rays as well to avoid future health concerns. Below are just a few of the benefits of wearing sunglasses (prescription or non-prescription) on a regular basis:
Protect the eyes and facial skin from sun-related problems. Wearing sunglasses can protect the eyes from UV-related issues including macular degeneration, glaucoma, and cataracts. The facial skin may also be partially protected from sun rays which can contribute to and increase one's risk for skin cancer.
Protect the eyes from the elements. Sunglasses can be worn in many situations in the outdoors where reflection of UV rays can be strong and damaging. This includes snow, sand, concrete, and water.
Enjoyment of the outdoors. When wearing sunglasses, patients no longer have to squint to see when participating in outdoor activities such as sports. This in turn can reduce eye strain that can increase the chance of developing migraines and headaches.
Safer driving. During sunny times of the day, driving ability can be impaired when patients cannot see clearly. Patients should consider the benefits of wearing polarized sunglasses to improve reaction time and enjoy overall clearer vision in high-sunlight situations.
Fashion and style. Nowadays, patients have a wide range of options when it comes to the shape, size, and overall look of sunglasses. Fashionable frames can easily be found at the eye doctor and can be converted to prescription sunglasses when needed. Look your best while sitting poolside, hanging out at the lake, or visiting with friends on outdoor restaurant patios!
Learn more about the benefits of wearing sunglasses
Contact the professionals at Aker Kasten Eye Center in Boca Raton, FL today to learn about the benefits of wearing sunglasses and other protective lenses. Our practice is conveniently located at 1445 NW Boca Raton Boulevard and can be reached at (561) 338-7722.
---