Posted by: Aker Kasten Eye Center in Uncategorized on July 22, 2014
Caridad Center Expands Focus
Sun-Sentinel, June 14, 2008
By Khari Johnson, Staff Writer
WEST BOYNTON
When Jose Baidal noticed his vision worsening, he knew he needed help. He didn't know where to go until he found the Caridad Center, where health care is provided to the underserved, including many immigrants.
"I went there because they told me they help poor people," said Baidal, 53, of West Palm Beach. "They treated me good."
Baidal was diagnosed with diabetes and diabetic eye disease, an affliction that could mean surgery or blindness. He hopes to avoid both with the help of the center's new Vision Van project.
The center officially opened its new project Friday with a ribbon-cutting ceremony at its facility just west of Florida's Turnpike. Caridad officials say it is the first free and comprehensive vision program in Palm Beach Count. The Caridad Center provides health care to low income and the uninsured.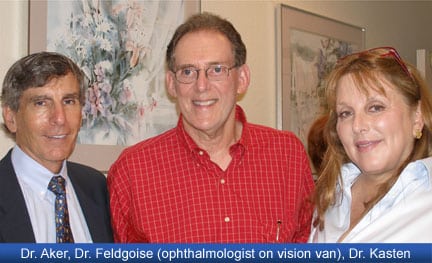 "It's about more than eyeballs," said Dr. Alan Aker, whose practice donated the mobile home. He also surprised Caridad staff with a $1,000 check and a promise to match donations by local ophthalmologists up to $25,000.
Though smaller than the average eye care facility, the permanently parked motor home provides the space and quality care unavailable in the crowded center since the eye care program started a year ago.
"Every closet is now an office and every hallway a computer lab," said Caridad Executive Director Barbara Vilaseca. Before, they could carve out space for eye care in the center only once a week. Now, they can offer eye care three days a week, she said. They can offer care five days a week if more eye care experts volunteer.
"It's as much or as little as you can give," said Dr. Louis Feldgoise, the center's lead ophthalmologist.
Eye care is an important issue at the center, where nearly one-third of its regular patients are diabetics at risk of diabetic eye disease.
Other common afflictions include glaucoma, cataracts and corneal diseases. Feldgoise said he has "seen more of it here than in a lifetime of practice in upstate New York." Still, he says working at the Caridad Center has been the most fulfilling volunteer work he's done since he began giving his time to the needy.
The center gets the necessary equipment and medication with help from local churches, eye care specialists, pharmaceutical companies and organizations such as the West Palm Beach Lions Club.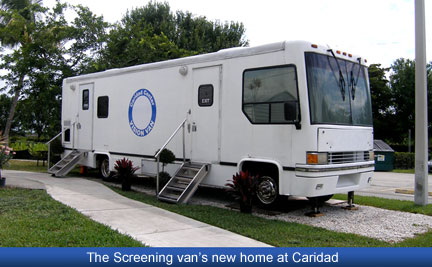 The Caridad Center is supported primarily by fundraising, donations and grants. What started in 1992 in a double-wide trailer is today a 7,500 square-foot facility that serves more than 5,000 patients. For more information on the Caridad Center, visit www.caridad.org or call 561.243.6336.
---