Posted by: Aker Kasten Eye Center in Uncategorized on July 22, 2014
As Featured in Boca Life Magazine
MY EYESIGHT JUST ISN'T WHAT IT USED TO BE. ONCE I TURNED 40, I COULDN'T READ THE NEWSPAPER ANYMORE WITHOUT GLASSES. AND NOW I'M EVEN GETTING CATARACTS! ISN'T THERE A WAY I CAN SEE LIKE I USED TO?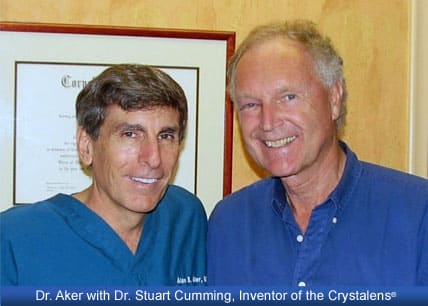 Dr. Stuart Cumming, the inventor of the Crystalens, chose
Dr. Aker to perform Crystalens implants on both eyes.
It's the age-old dilemma that once you hit 40 your arms just aren't long enough anymore! That happens to everyone, and cataracts are naturally occurring with age, too. A lot of patients look into LASIK surgery only to discover it can't help their inability to see up close without glasses. But there absolutely is a way to restore and improve your eyesight.
While performing surgery on your eyes to remove that cloudy protein that forms the cataract, a qualified eye surgeon can also work wonders to restore your vision. With a brief outpatient procedure, I can implant a lens in your eye that will allow you to see near, far and in between without glasses – often the best vision you've ever experienced.
The implant is called the Crystalens HD, and I was one of the first eye surgeons chosen by the inventor to use them on my patients. The beauty of this surgery is that it provides excellent functional vision for almost all activities – whether golfing, playing tennis, working on your computer or reading – all without glasses.
---