Posted by: Aker Kasten Eye Center in Optical Services on November 30, 2017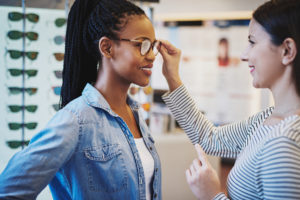 You don't need to hire a stylist to know how to select the right eyeglass frames for your face. In fact, these simple rules will help you select and wear your eyeglasses with confidence. When you're choosing new frames this season, consider the following:
Know your face shape
The trick to finding the right frames is to remember that opposites attract.
Round face: if you have a round shaped face, select frames that are rectangular or square. This will help make your face appear longer and slimmer and add balance to your appearance. Avoid frames that are rimless or round.
Oval face: Frames with a strong bridge suit this face shape well. Also, look for frames that are wider than your face and have a geometric look. Avoid frames that or too large or cover up a lot of your face.
Square face: If you have a square face, eyeglasses that are round or oval will do wonders to soften your angular features. Avoid geometric or box-like eyeglass frames.
Diamond face: If you have a narrow forehead and chin, opt for frames that are wider than the cheekbones. These will accentuate your great angles and soft features. Avoid narrow or boxy eyeglass frames.
Heart shaped face: Search for glasses that are round or squared with curved edges. This will draw the attention away from a broad forehead. Avoid frames that are embellished or draw attention to your forehead.
Know your skin tone
Your skin tone plays an important role in finding the right frames for your face. If you have a warm skin tone (yellow, bronze, or gold complexion to your skin) avoid pastels, black, or white frames. Select frames that have shades of brown like the tortoise, beige, or olive green.  If you have a cool skin tone, your skin has a blue or pink cast. In this case, search out frames that are silver, black, blue, mauve, or gray.
Schedule an appointment
If you have questions about how to protect your eyesight, schedule an eye appointment at Aker Kasten Eye Center today. Don't hesitate to call our office at (561) 338-7722. We look forward to hearing from you this season!
---