Posted by: Aker Kasten Eye Center in Eye Exam on November 30, 2018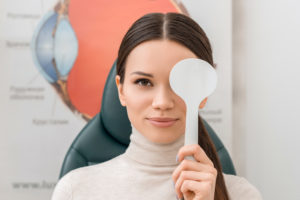 Those with perfect vision may think that regular eye exams are unnecessary. This is a dangerous falsehood that could result in an eye disease being left unchecked. Eye exams are an essential tool in eye health and identifying potential eye problems before they progress to the point of no return. Your eye doctor is also specifically trained to spot other health issues like diabetes. If you haven't seen your eye doctor in a few years, schedule your appointment today.
Choose the right doctor
Schedule your visit with a certified optometrist or ophthalmologist for your eye exam. If your check up is routine, you can go with either specialist. If you have eye problems like glaucoma or cataracts, you may want to go with an ophthalmologist.
What to bring
If you have glasses or contacts, bring them with you to your appointment. In some cases you may need to stop wearing your contacts before your appointment so call ahead to make sure. Begin to write down a list of any health conditions or allergies you have so you are prepared to share them with your eye specialist. In addition, list all of the medications and supplements you are currently taking. After that, write down specific questions you have about the health of your eyes so that you don't forget anything during your appointment. Call your medical insurance company to confirm your insurance coverage. This will help you know what you can expect to pay or if you have coverage at all.
The visit
During the eye appointment itself you will likely fill out new patient paper work then meet the doctor. Every exam will vary, but here are some basic elements that are common during an eye exam:
A review of your patient history and your overall health.
Vision tests to ascertain your ability to see near and far, perceive color, and peripheral vision.
Tonometry: a glaucoma test used to measure eye pressure.
Eye exam: A full eye exam sometimes requires the use of dilation drops to help widen the pupil. This will allow the doctor to see fully inside of your eye.
Arrange Your Eye Appointment
Schedule your eye appointment at Aker Kasten Eye Center today by calling (561) 338-7722, located in Boca Raton, Florida.
---