Posted by: Aker Kasten Eye Center in Dermal Fillers on April 15, 2018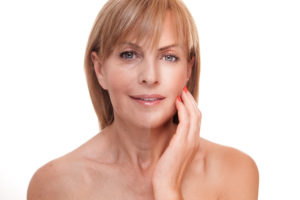 Do you have moderate to severe facial folds and wrinkles? Juvederm can help. Juvederm is a hyaluronic acid dermal filler that can last for 9 months to one year. It is made of a smooth consistency gel, as opposed to other hyaluronic gel injectables that are granular. Juvederm was created using the Hylacross technology, which makes it more malleable and smooth.
What is hyaluronic acid?
Hyaluronic acid is a naturally occurring substance in the body. It works by allowing water to stay in the injection area and functions as a cushioning material. Many patients only require one treatment to receive excellent results. According to clinical trials, 88-90% of patients who received a Juvederm injection maintained improved skin at 24 weeks.
Can anyone receive Juvederm injections?
Juvederm should not be administered to patients who have extreme allergic reactions, specifically a history of anaphylaxis or several severe allergies. If you choose to get Juvederm injections, inform your physician if you are using aspirin, ibuprofen, or naproxen. These substances can make bleeding last longer. If you are pregnant, breastfeeding, or under the age of 18 years, talk with your doctor before pursuing treatment.
What are the side effects of Juvederm injections?
Juvederm side effects are mild and brief. Patients have reported the following side effects after their Juvederm treatment: pain, tenderness, bruising, itching, discoloration, swelling, redness, firmness, swelling, and bumps. If you have redness or swelling for longer than a few days, contact your physician. To avoid any complications post-treatment, avoid strenuous exercise, extensive heat exposure, and alcoholic beverages within the first 24 hours.
How long does Juvederm last?
Juvederm treatments are temporary. Additional treatments may be needed about 9 months to one year after treatment. Repeat injections require only half the amount of Juvederm that was originally used.
Arrange a consultation
If you are interested in what Juvederm can do for you, arrange a consultation with Aker Kasten Eye Center today. Our office can be reached by calling (561) 338-7722. We look forward to answering your questions.
---