Posted by: Aker Kasten Eye Center in Eye Exam on May 15, 2018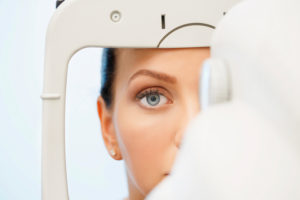 Beyond regular eye exams at Aker Kasten Eye Center, there are specific ways you can keep your eyes healthy. Consider how you can integrate each of the following 4 suggestions into your daily routine.
Eat the right foods: Excellent eye health begins on your plate. When considering what to have for your next meal, focus on nutrients like zinc, vitamins C and E, omega-3 fatty acids, and lutein. These nutrients may help defend your eyes from vision issues like macular degeneration and cataracts. Next time you're at the grocery store, add some of the following food items to your cart: Salmon, tune, eggs, nuts, citrus fruits, pork, oysters, spinach, kale, and collard greens. Maintaining a healthy diet will also help ward off obesity related problems like type 2 diabetes—which can cause blindness.
Stop smoking immediately: Smoking will make you more susceptible to getting cataracts, hurting your optic nerve, and developing macular degeneration. If you are having problems trying to kick your smoking habit, speak with your doctor about it.  They have valuable resources and suggestions that can assist you on your way to being smoke free.
Don't forget the shades: Invest in a proper pair of sunglasses to help guard your eyes against ultraviolet (UV) rays. You may want a pair of polarized lenses to help diminish the sun's glare while you drive. Look for a pair that can block 99%-100% of UVB and UVA rays. Excessive exposure to UV light can increase your chances of getting cataracts and macular degeneration.
Use eye protection: if you are doing an activity on the job or at home that involves hazardous materials, you need safety glasses. When playing sports like lacrosse, racquetball, or ice hockey be sure you are wearing protective eye gear. Helmets also offer eye protection in the form of sports goggles or protective face masks.
Arrange a Consultation
To ensure that you are maintaining proper eye health, schedule your eye exam today. Come prepared with any questions you may have about your eyes. Call our office at (561) 338-7722 today to arrange your appointment. We look forward to seeing you!
---