Posted by: Aker Kasten Eye Center in Macular Degeneration on August 15, 2019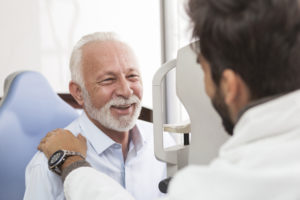 Age-related macular degeneration, or AMD, is a condition that can naturally develop as patients get older. This common eye condition is one of the leading causes of vision loss in patients above the age of 50. It is gradual damage to the macula, the part of the eye used to achieve sharp, centralized vision. The macula is used in seeing objects that are straight ahead in the line of vision. When patients age, the macula gradually becomes damaged. In fact, this condition advances so slowly that many patients do not notice vision loss until it has reached the later stages of the disease. If AMD is detected in the eyes, it may be diagnosed at one of the following stages of AMD:
Early AMD – patients in the early stages of AMD typically do not experience vision loss. However, an eye doctor can diagnose the condition based on the presence of small to medium-sized drusen. Drusen is a lipid that present as yellow deposits under the retina. While having drusen present doesn't actually caused AMD, the presence of it can increase one's risk.
Intermediate AMD – this stage of AMD is determined based on large drusen that are present in the retina. Patients may also have pigment changes to the retina as well. These changes can only be diagnosed with an eye examination and patients at this stage may not notice vision loss or may experience minor changes.
Late AMD –at this point, patients will experience vision loss. This is when the condition has reached the later stages that may start to progress more rapidly.
Because AMD has very few symptoms in the earlier stages, it is advantageous for patients to have routine eye examinations at Aker Kasten Eye Center. This ensures that the condition is caught early enough for successful intervention. Patients who are at risk of developing AMD because of their family history, lifestyle, or advancing age should be seen regularly by their optometrist to be evaluated for this and other age-related eye conditions that will benefit from early detection.
Schedule an evaluation with Aker Kasten Eye Center
Patients in the community of Boca Raton, FL who are seeking an eye examination with a professional team are encouraged to book an appointment with the eye doctors at Aker Kasten Eye Center. Patients can call the front office at (561) 338-7722 to request an appointment at the practice, conveniently located at 1445 NW Boca Raton Boulevard.
---