Posted by: Aker Kasten Eye Center in Cataract Surgery on November 15, 2019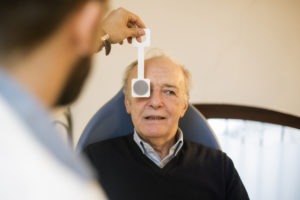 At Aker Kasten Eye Center, patients in the area of Boca Raton, FL can obtain quality eye care solutions. This includes the placement of premium lens implants during laser cataract surgery.
What are cataracts?
Cataracts are best described as clouding of the natural eye lens that can result in blurry vision. In the earlier stages, patients may not have many symptoms that occur and indicate cataracts, which means that it is often found in the later stages when it has progressed further and has caused more permanent damage. This is why the team at Aker Kasten Eye Center encourages patients to have routine eye examinations performed to catch eye disease and conditions early enough for successful intervention. The treatment of cataracts requires the removal of the natural eye lens and replacement with standard or premium IOLs, or "intraocular lenses."
What are premium lens implants?
Also known as premium IOLs, premium lens implants are specialized lenses that are used to replace natural lenses during laser cataract surgery. The premium lens implants may include the following:
Multi-focal IOLs
Accommodating IOLs
Toric IOLs
Each of these implants play a specific role in restoring eyesight following the removal of the natural lenses. Some patients may choose to have a standard lens placed in one eye, and a premium lens placed in another. The best lens for an individual is determined during the initial evaluation. The professionals at Aker Kasten Eye Center will educate patients on the types of IOLs that can be placed and make a recommendation based on the patient's needs and desires. Each situation is unique, and our team ensures that the treatment chosen for an individual meets their unique concern. This is why many patients trust the associates of Aker Kasten Eye Center with their vision correction and eye health needs.
Interested in discussing premium lens implants with your doctor?
Call Aker Kasten Eye Center of Boca Raton, FL today to schedule a consultation and initial evaluation with one of our associates. We accept new patients and welcome individuals who are interested in undergoing an evaluation and discussing their vision needs. The practice is located at 1445 NW Boca Raton Boulevard and can be reached by phone at (561) 338-7722.
---